Accommodation Options
We have four "economy" cabanas, nine "deluxe" casitas, and two "grand casitas" with daily housekeeping. They are all nicely spaced apart to offer you more privacy than most other hotels on the island. All rooms are ocean front offering either views of the beach and palm trees or over the open ocean. See the Casa Iguana map to understand the walking distances to the beach (no more than one minute from any casita), lodge, and other attractions on our reserve. Our rooms are a great value in and of themselves, but especially given the added benefits of our friendly service-oriented local and foreign staff, spectacular views, in-room safes, free WiFi in the lodge, bottomless organic and fair trade coffee, charging area for your devices, good tunes all day long, unprecedented ambiance, and 40 acres with private coves.

By staying at Casa Iguana you contribute to sustainable tourism and agrotourism in Nicaragua and help us implement more programs and promote our practices island-wide. You also help support our efforts to improve education on the island.

Economy cabanas are 10' x 11', with a 7' x 11' veranda. Cabanas utilize our recently rebuilt shared bath. They are simple but comfortable and can sleep two per room. There are no electrical outlets in the cabanas. Cost is $35 per night, double occupancy.
Deluxe casitas are 12' x 16', with a 7' x 16' veranda. They have a full sized bed and a futon that makes into a double bed. There's a private bath, plenty of glass windows with screens. Shower is outside but private. They have no electrical outlets, but are "cute," quiet, very private, very comfortable and can sleep four per casita. Cost is $65 per night, double occupancy, and $5 for each additional person.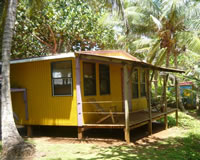 The two Grand Casitas are 24' X 16' (twice the size of the regular casita) with a 24 foot veranda. They offer a queen size bed, two futons, elctrical outlets, and can sleep six per casita. Cost is $75, double occupancy and $5 for each additional person.

Rates are higher during the high season (Dec. 15-Jan. 15 & Feb. 15-Apr. 15). Check our promotions page for current offers.
A deposit is due upon confirmation of reservations. In the event of a cancellation, a full refund of the deposit will be given if we are given 14 days notice. We accept Visa and MasterCard with (5% internet processing charge). Traveler's checks are welcomed. Personal checks need prior approval.