Click Here For Specials!


Little Corn Island is a tropical island paradise, far off the beaten path, unspoiled and completely unaffected by tourism.
Located in the Caribbean 45 miles off the eastern shore of Nicaragua, Little Corn Island is inhabited by 750 or so, English speaking people who earn their living from lobster fishing.



Situated on a high cliff at the ocean's edge, Casa Iguana is located on the remote and breezy southeastern shore of the island.
There are eleven private, individual cabins, right on the water. Each has a wide veranda, a hammock and a spectacular view of the ocean.



Meals are served in the spacious lodge, where tables are set with fruits and vegetables from our garden. Fish, conch and lobster are gathered daily from the surrounding sea.

Electricity is provided by a sophisticated solar energy system and a wind powered generators.


The fishing is extraordinary. Kingfish, dolphin, jack, snapper and barracuda abound less than a mile offshore. Fly fishermen land tarpon and bonefish right from the beach. And for those who prefer the view from under the surface, directly in front of Casa Iguana lies what Fodor's Travel has called "...the finest snorkeling reefs in the Caribbean." Our hotel boat, with accomplished guide, is available to guests for hire.

Aside from the more typical vacation diversions, many guests delight most in simply exploring the many deserted beaches, hiking the narrow trails through the surrounding hills and bush, or just visiting with the locals.

Whatever you choose to do while a guest at Casa Iguana, you will be guaranteed a sense of a very unique and special place.

For more information and reservations, email us at

[email protected]

.

Be sure to include your phone numbers in your correspondence. (There are no phones at the hotel, but we like having your number for convenience. Our email correspondence is done through a satellite system.)

You can also learn more about how to get here, what to bring, rates and room descriptions, and scuba diving -- all right here on the web! Also, check out our F.A.Q.

For our Italian friends.

For more great pictures of Casa Iguana and Little Corn Island, go to here.
"We have created an adventure travel experience that doesn't forfeit comfort, relaxation and personal attention -- those things one would expect in the more conventional resort settings that blanket the rest of the Caribbean. But, make no mistake about it, we are way out here, at the far reaches of a very remote part of a very underdeveloped country. This is the Caribbean as it used to be: an island, a culture, and a way of life that hasn't yet felt the impact of the 20th Century."

- Founders,Grant and Cathy Peeples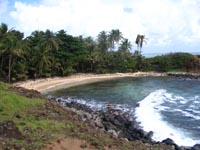 The top 10 reasons we might not want you to visit Casa Iguana.